With the electronic invoicing services Bg E-invoice Private (Bg E-faktura Privat) and Bg E-invoice Corporate for the internet bank (Bg E-faktura Företag i Internetbanken), your company can send invoices quickly and cost-efficiently to customers, who then pay with the click of a button via their online bank.
With electronic invoicing, your company saves the cost of postage and handling paper. Your customer sees an invoice summary in the internet bank and can see the complete invoice via a link. All data transfer is done with high security.
More advantages of e-invoicing:
It is an environment friendly way of sending invoices
The e-invoice service makes it possible for your customers to receive invoices digitally in their internet bank.
Using e-invoices means you reduce the charges associated with paper invoices.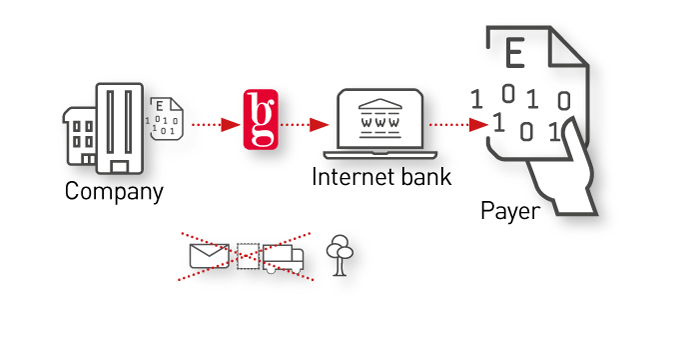 Simple for your customers
Your customers can see e-invoices by clicking on a link in their internet bank. The customer approves the invoice for payment with a click and has no need to key in long reference numbers etc.
This means that you achieve a 100 per cent automatic reconciliation frequency for these payments in your accounts receivable ledger.
More possibilities depending on your needs
Invoice presentation
If you wish to use e-invoice private and e-invoice corporate in the internet bank, you can choose to either present the invoices yourself or use Bankgirot's web hotel.
The web hotel is a good choice if you wish to get going with sending electronic invoices quickly:
Because the e-invoice is stored and presented in Bankgirot's web hotel, you do not need to invest in your own solution for invoice presentation.
The appearance of the e-invoice is controlled by an invoice template, which Bankgirot can help you to design uniquely for your company. You can use several different templates, designed for different customer groups, for example.
Presentation of invoices in the Bankgirot's web hotel looks like this: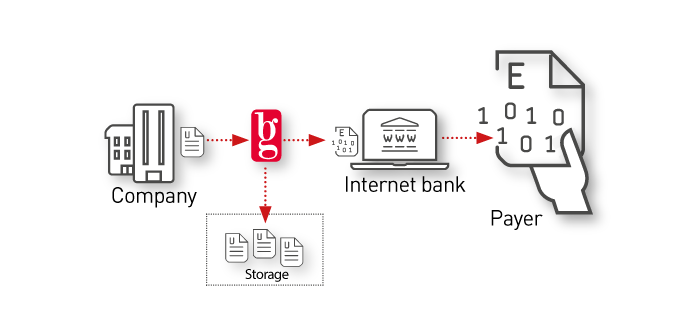 Different ways of registering to accept electronic invoices
There are various possibilities for how private individuals and companies that wish to receive electronic invoices in their internet bank can register to do so. As the invoice issuer, you can decide in what way(s) your customers can register:
Via a registration page, which the customers reach via their internet bank. By using Bankgirot's registration application, you have no need to design and maintain an application page yourself.
Customers can also register directly with you, via your customer service or web service, for example.
Registration can also occur with payment in the customer's internet bank.
Processing and cancellation of registration is done electronically. You can build up fully automated routines for this processing.