Clearing and Settlement (Clearing och Avveckling) services are the core of Bankgirot's business. Clearing involves compiling and declaring the payment obligations of two or more banks to each other. Settlement is the final adjustment of liabilities and claims between two banks, and is carried out by a settlement bank.
This information is intended for you who want to know:
what is Clearing and Settlement?
how does Clearing and Settlement work?
how does Bankgirot carry out Clearing and Settlement?
How the payment process works
In practice, Clearing and settlement involves money being transferred from one bank's account to another bank's account within the same settlement institution (for Swedish kronor, in the RIX system at Riksbanken).
A single payment from a private individual, business or organisation is thus only final once settlement has taken place at a settlement bank. The creditor can then be credited.
How does Bankgirot carry out Clearing and Settlement?
Clearing and Settlement is carried out in slightly different ways depending on which payment system applies. Bankgirot has two payment systems: The Bankgiro system and Payments in Real-time (BiR). The banks and the banks' customers send payments to Bankgirot which, in turn, sends the payments to Bankgirot's Clearing and Settlement service which clears and ensures settlement within the settlement institution.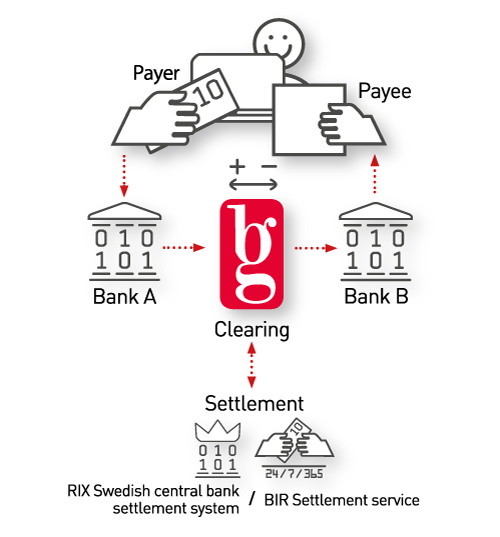 The payment process with the Bankgiro system
When a purchaser pays a vendor and the parties have different banks, this payment is included in a summary of all payments to be carried out between the banks.
Bankgirot sends this summary to Riksbanken for settlement (adjustment) of liabilities and receivables between the purchaser's bank and the vendor's bank.
When Bankgirot receives confirmation of settlement, a credit base is sent to the receiving bank (the vendor's bank) for deposit in the creditor's (vendor's) bank account.
At the end of the day, both the paying and receiving banks receive a reconciliation basis for all settlements carried out during that day.
Bankgirot's Clearing and Settlement service also handles payments in domestic Euros for the payment products where possible.
Payments in real time
Payments in the Payments in Real time system are sent to the BiR Settlement service and are settled at Bankgirot, which is then the settlement system and ensures finality (that payment is definitive).
Data clearing
In addition to the Bankgiro system and Payments in Real time, there is also the account-to-account transfer system, Data clearing, which is owned by the Swedish Bankers' Association.
In addition to these systems, Bankgirot handles the financial flows for ATMs in Sweden.
How can my company participate?
Those wanting to participate in Bankgirot's Clearing and Settlement service and/or the BiR Settlement service apply to do so. Only those institiutions that meet the participant requirements are eligiable to register.
In addition to being a bank or financial institution, the participant must show that security within the system and business meets Bankgirot's requirements. You can read about the requirements under Participant requirements for Bankgirot's Clearing and Settlement service and the BiR Settlement service.